To blog or not to blog.....
I posed this question to friends when our family was about to embark on a trip to Europe earlier this year. A travel blog for 6 weeks was less threatening than a regular blog. It was fun to write about our travels and it gave me a taste for writing for an audience other than the pages in my journal and the odd letter to a relative. I had set up a blogger account late 2010 but just couldn't seem to get my thoughts down. Maybe i was nervous about going public.
So we have been back for 5 or so weeks and now is the time to jump in.
I told myself that now was the time to do something; to find my passion again, to find my thing, to explore new things, to ponder out loud, to encourage, to write.
This season of my life is bringing many changes as my children launch into their own lives. Our youngest is 16 and after many years of home schooling she is of to do her own studies. Her orientation was today so I thought it fitting to start this blog today.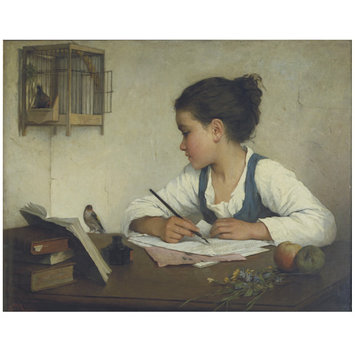 Girl Writing(1874) - Henriette Brown (1829-1901)
As a child I loved to write. I wrote stories. I wrote to pen pals all over the world making 2 or 3 rough copies before I rewrote the final good copy. As a teen I started keeping journals. Today I keep a variety of journals on the go. I write what I am thankful for, or a quote I like, a line from a book or something a child did to annoy me or delight me. But this is always for my eyes only.
Today I write for anyone to read. That is scary and exciting and full of potential.